Conference attendees wishing to present their work orally during the plenary sessions are requested to submit an abstract to the conference. No poster sessions will be organized. In order to encourage visibility of younger researchers, only plenary sessions are scheduled.
Please use the following
abstract template
(Word format) for your submission.
E-mail your abstract(s) in
Word format only
to
geant4-2018@cenbg.in2p3.fr
before June 30th, 2018
.
Acceptance notification will be sent end-July 2018.
The book of abstracts will be distributed on site.
Conference attendees will have the possibility to submit their presented work(s) as
full peer-reviewed regular paper(s)
(not proceedings) for publication in a focus issue of the
European Journal of Medical Physics - Physica Medica
(Elsevier).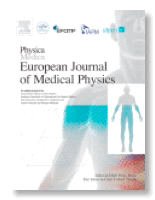 The submission window for papers will be from November 1st, 2018 till January 31st, 2019, on the this submission website.

When submitting on this web site, please make sure to select: "Special Issue (SI): Geant4 Advances".

More details available on the journal's Guide for Authors.